Day Sails and Weekend Sails -- San Francisco and Monterey Bays.
Most skippered by Joe Martinka (taking the pictures). Click back to LIG Sailing Home Page
Quick links to years 1991 | 1992 | 1993 | 1994 | 1995 | 1996-7
1991 Sailing Trips on San Francisco Bay
4/28/1991
Lance Norskog, Glen Harden Tom Ford Carla Ford, Joe Brogley, Rita Brogley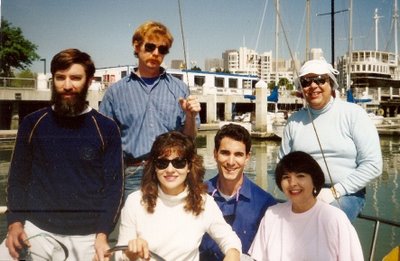 5/4/1991
Catherine Heckert, Dan Geiszler, Ann, Karen (Nona's sister)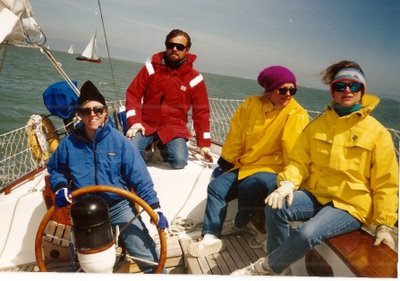 5/11/1991
Cynthia Ross, Ed and Julie Fekete, Kevin Kelleher, Jennifer Jones, Jerry Whitnell
5/24/1991
Rajiv Jog, Marianne Hsing, Cliff Greyson, Marc Veredoz, Jay P. Black,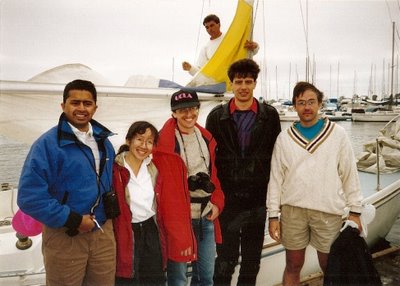 5/27/1991
Gary Price, Catherine Heckert, Janice and Wayne Booth, CJ (Carol), Rob French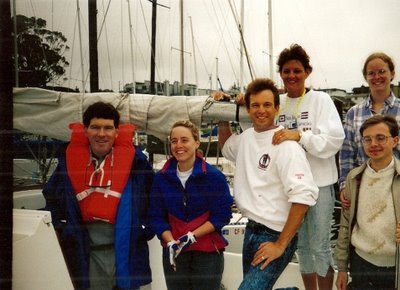 6/8/1991
Jim Callister, Carla Ford, Jerry Nielson, Dianne Nielson, Tom Ford, Gail Lapetina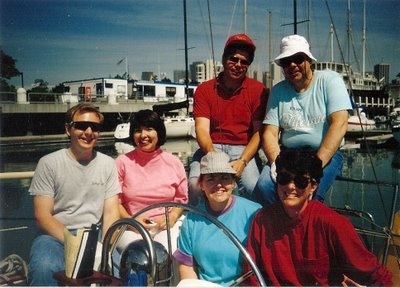 6/8-8/1991
Tom and Carl Ford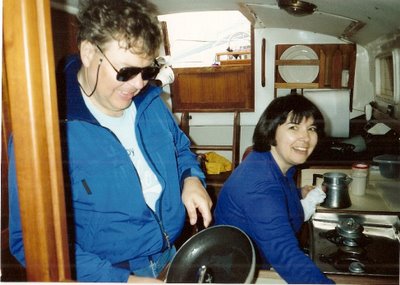 6/9/1991
Bob Fink, Vicki Vickers, Frank Rowand, Tammy Schreier, Stan Chesnutt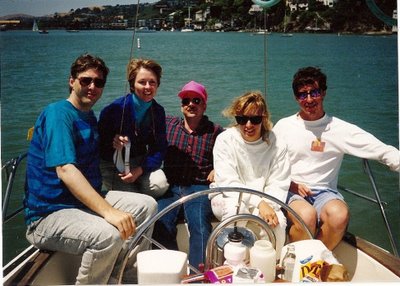 7/5/1991
Scott and Jeanne Peterson, Bob Walstrom, Dave Fields, Larua Melin, Catherine Heckert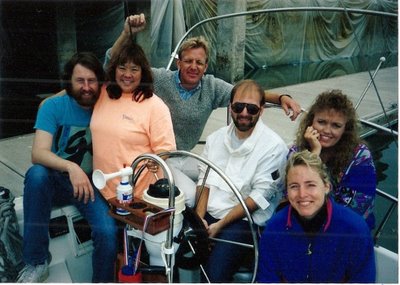 7/20-21/1991 Monterey Bay
Catherite Heckert, Ann, Carlo Pannacionne, MariAnne Hsiung, Cliff Greyson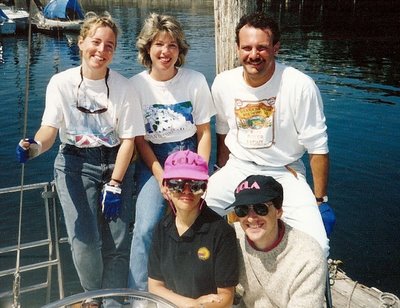 8/08-13/1991 Green Bay, Wisconsin (5 day freshwater sail)
Jeff Martinka, Paule Kosir, Catherine Heckert, Tessa Coons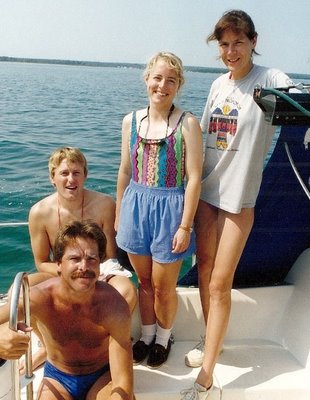 9/2/1991
Bob Starkouich, Colleen Bradfield, Connie Hayes, Ed Hayes, Catherine Heckert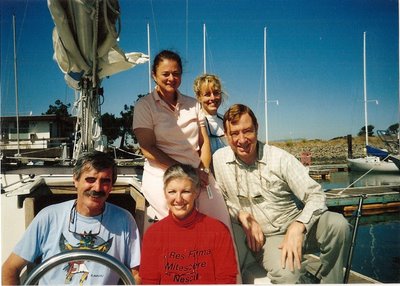 9/24/1991
Gail Lapetina, Richard and Linda Vaugham, Vikas Kapur, Vicki Vickers, Catherine Heckert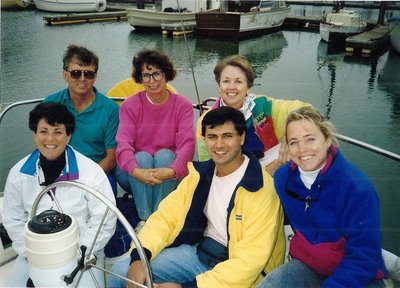 9/29/1991
Joe and Rita Brogley, June Hsuiea, Paule Kosir, Becky ?, Catherine Heckert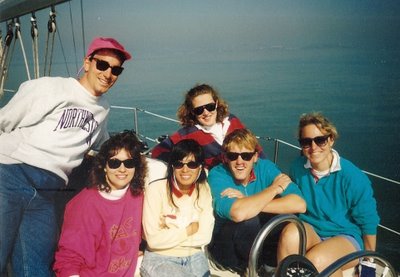 10/12/1991
Cliff Greyson, Marianne Hsiung, Luiz Jenkins, Tatalie, Carol Preston, Catherine Heckert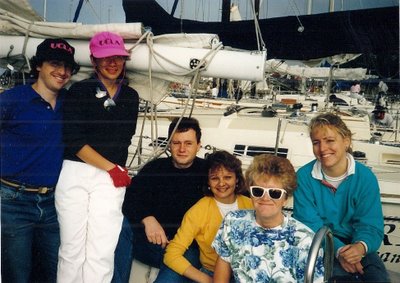 SAILING IN 1992
3/14/1992
Joe Brogley, Joe's friend, Elliot Sawadski, Catherine Heckert, Laura Melin, Vicki Vickers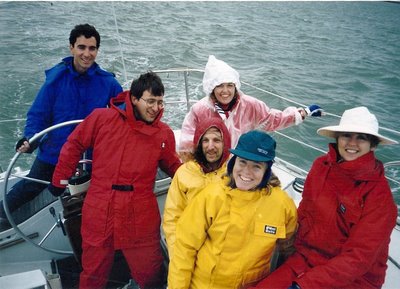 3/19/1992
Lawrence Brown, Sherri Brown, Catherine Heckert, Tessa Coons, Jeff Martinka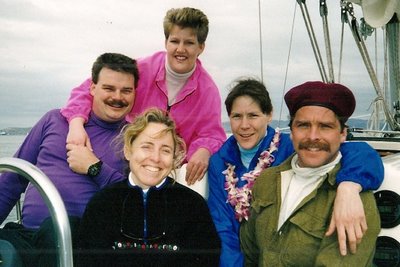 4/18/1992
Jennifer Jones, Chiel's Beau, Catherine Heckert, Tai Jin, Shiela Brooks, Kevin Kelleher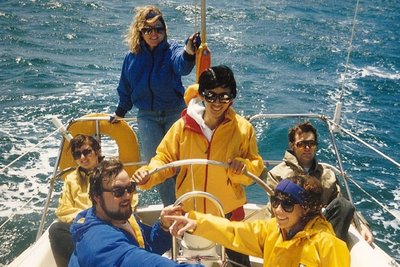 5/9/1992
Rich Deep, Frank Rowand, AnneMarie Nelson, Francine Polidari, TM Ravi (walked overboard at GG bridge) Gail Lapitina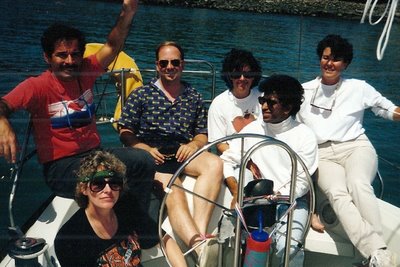 5/23-25/1992
? and Bob Walstra, Francine Polidari, Vicki Vickers, Catherine Heckert, Luis Jenkins, Richard Webber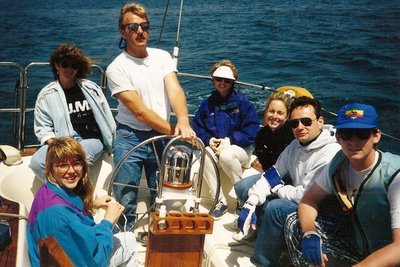 6/6/1992
Jodi Reed, Larry Reed (bro), Dan Geiszler, Ann  and Henry (SGI)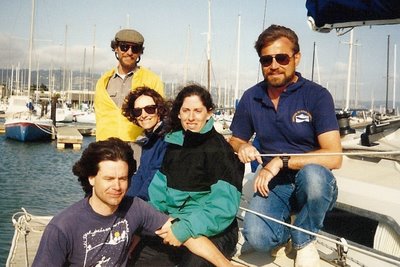 1992 Oyster Cove Beer Can Races
Paul Debettencourt, Dan Geiszler and others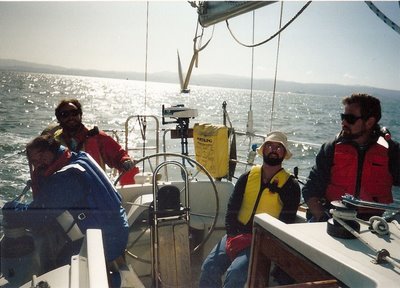 6/13/1992
Amy Wallace, Laurie ? (friend), Catherine Heckert, Joe and Rita Brogley, Nancy Hurt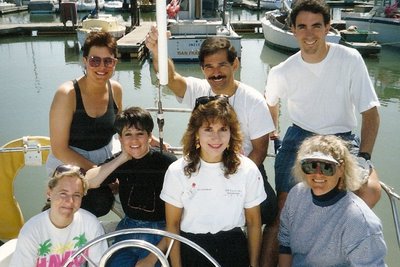 7/5/1992
Catherine Heckert, Sheryl Strebel, Rick Jones Barbara Holz, June Hseu, Cliff Greyson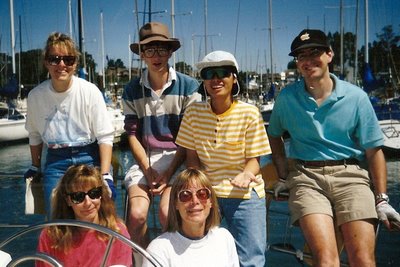 7/18/1992
Joe Stenmetz, Cathy ?, Debra Haeker, Gail Lapetina, Catherine Heckert, David Haeker
8/1/1992
Cliff Greyson, Christiane Bolwell, TM Ravi, Melanie ?, Francine Ravi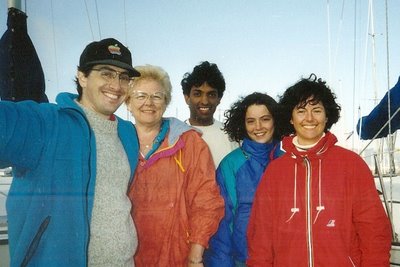 9/5/1992 -- 2 day labor day  -MB
Catherine Heckert, Tammy Schreier, Jeff Baker, Vicki Vickers, Dave Herberg (not pictured)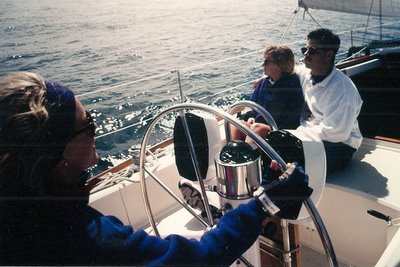 SAILING IN 1993
4/9/93 -- 3 day Whale sail – MB
Stan Chesnut, Vicki Vickers, Pat Lowther, Michael Sweeney, Dorian (not pictured)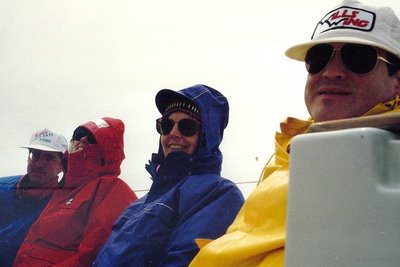 5/8/93
Rick Jones, Dorian, Charles Vesaggi, Kirk Wheeler, ?
6/19-20/93  -- Ano Nuevo
Hugh Greg, Luis Jenkins, Gail Lapetina, US Navy seal (Russian translator), Dorian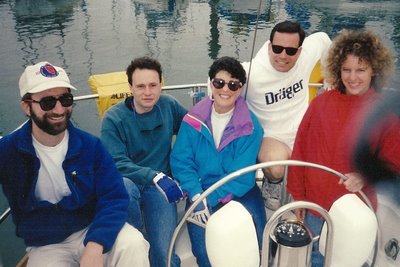 7/11/93
Peter Canning, Rick Jones, Chellia Muthusamy and Ravinden, Rich Deep, Dorian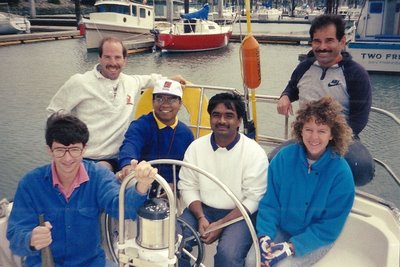 7/31/93
Kirk Wheeler, Frank Rowand, Dorian, Cristina Bolwell, Catherine Heckert, Frank Lara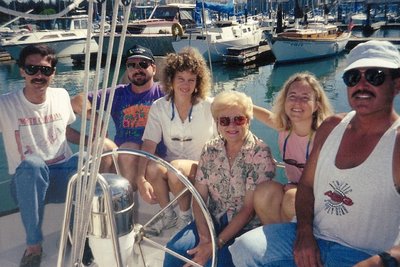 8/29/93
Jim Hengler, Rich ?, Tody Reed, Vicki Vickers, Silva Chitgopetan, Dorian
9/11-12/93 – 2 day MB
Luis Jenkins, High Gregg, Joe, Pat Lowther, Luis' friend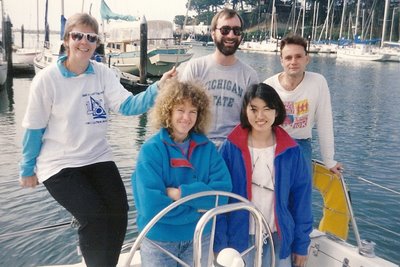 10/23/93
David Herberg, Laura Melin, Catherine Heckert, Rick Jones, Gail Lapetina, John McCarthy
SAILING IN 1994
1/2/94
Phil and Vicki Vitali, Stan Chestnutt, Ric Gilbert, Dorian
4/2-3/94  -- 2 day MB
Dorian, Dan Geiszler and JoAnn, Sam and Diane Brown with 7 yr old
5/1/94
 Dorian, Hugh Gregg and friend, Lee Hounshell
6/5/94
Dorian, Meredith Fondahl, John Fondahl, Rich Deep, Laura Melin
7/1/94
 Dorian, Vicki, Pat Lowther, Tom Ford, Joe and Rita Brogley
9/4/94
Dorian, Michael Seeney, Joe and Rita Brogley, Rick jones and Beau (not shown)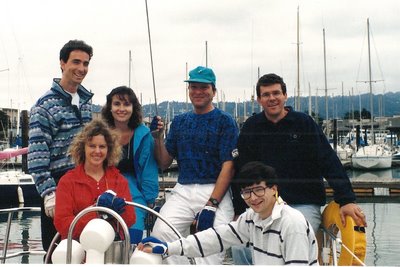 SAILING IN 1995
5/13/95
Dorian and Frank Rowand, Charles Versaggi and friend
5/27/95
Dorian, Vicki Vickers, Dan Geiszler, Laura Melin, Tom and Carla Ford
7/22/95
Dorian, Catherine Heckert, Robin Herr
9/23/95
Dorian, Vicki Vickers, Charles Versaggi, Mark Gisi, Rick Jones, Tai Jin?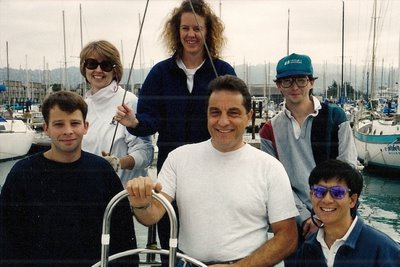 4/20-21/96
Dorian, Dan Geiszler, Mary Ellen Valentin, Robin Herr, and Hugh Gregg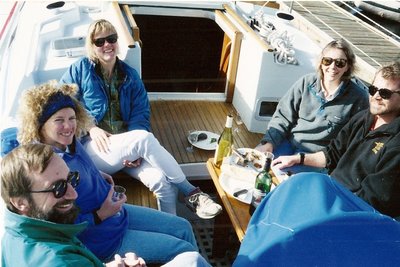 SAILING IN 1996-7
6/9/96
Dorian, Vicki and friend, Tai Jin, Gary Zaidenweber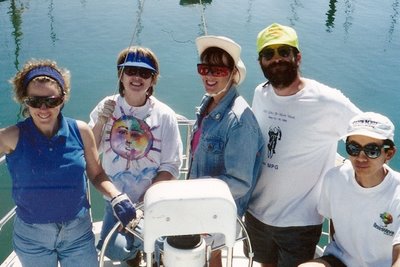 7/21/96
Dorian, Rick Jones, Robin Herr, Alex Snoeren, KS Shih Kuo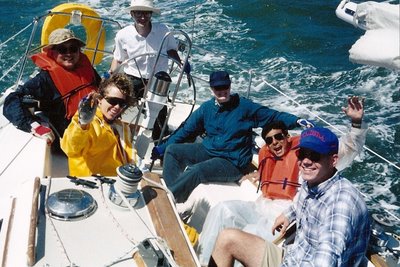 9/7/96
Joe, Dorian and bubbles (Arielle), Dan Geiszler, Mary Ellen Valentine, Jan (JJ) Johnson and friend, Meredith Fondahl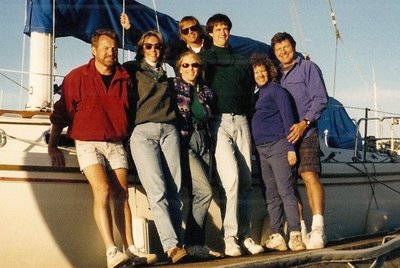 3/31/97
Barbara Martinka, Dan Geiszler, Russell Jong and friend, George Forman, Mary Ellen Valentine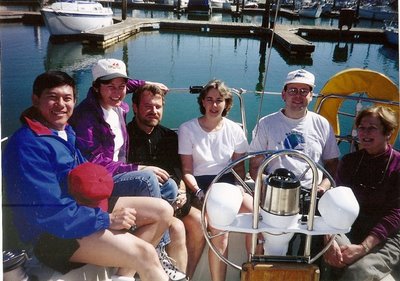 5/29/97
Dorian, Tai Jin and friend,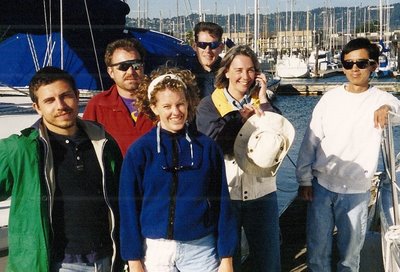 8/2/97
Dorian, Frank Rowand, Gary Price, Russell Jong, Tai Jin, Alex Snoeren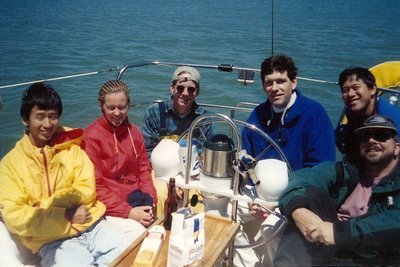 The LIG Sailing Home Page