Life is Grand (LIG) LIG Home page
St Vincent and the Grenadines
(base: St Lucia)
The LIG sailing's 2018 trip is to Grenadines in St Vincent.

Dates: April 7, 2018 to April 14, 2018
Briefing at 4pm Saturday, board at 6pm.
Updated length of trip: 7 days and 8 nights.

Destination: Sparkling waters of St Lucia, St. Vincent and Grenadines.


| | |
| --- | --- |
| | Temps: 74 to 84 F year around (23-28 C) |
| | Winds: North-Easterly trades at 15-25 knots |
| | Note: This is a trip where there is more open ocean sailing than previously. We are assured of plenty of wind and swells on some of the transits. It is a Level 3 sailing rating. |

HISTORY: We return to St Lucia 11 years from the last trip over new years (Click for memento page) Except, this time, sailing South from St Lucia (instead of North). Destinations: St Vincent and Grenadines

Please read this "Jewels of the Caribbean" <-- Wonderful travel article for a sail between these islands.

More information:

Cost Estimate: $1800 plus airfare - see below


Possible Itinerary:

be sure to click through on the pictures!

Airfare ideas:

Plan to arrive by mid afternoon on 4/6 for early boarding, or at least my mid-day on 4/7. The Martinka's are leaving on 4/5 to arrive 4/6.

| | |
| --- | --- |
| | (SLU) George Charles (Vigie) airport - 30 minutes from the base. |
| | (UVF) Hewanorra International airport - 85 minutes from the base. |

Departures after 2 pm on Sat 4/14 are safe.

Where mountains meet the sea. The Pitons rise like fangs. The Caribbean's 'Bora-Bora'. Second or last night spent here.

Soufriere and the Pitons, St. Lucia

Goal: One boat reserved reserved by October 25. We would like to have the final cabins spoken for by December 1.

For more details, call Joe at 408-735-7245, or email at exegrec3@yahoo.com.

Sailboat Information
Reservations --
We have chartered the first boat. We are at least 4 on the 41 foot sloop. Preferences to double occupancy, and for people who have already sailed with us on LIG trips.
Current Grenadines Signups
Crew
NAME
STATUS
AIRLINES
1
Joe Martinka
fully paid
SFO to UVF. Arriving 1441 on April 6. AA2295

UVF to SFO. Leaving 1530 on April 14. AA818

2
Dorian Martinka
3
Jeff Dunham
deposit check in the mail
4
Michelle Krick
5
Dan Geiszler
deposit check on account
still considering if the boat choice will work for them.
6
Diane Eaton
waiting list?
How to join:
Decide if a St. Lucia/Grenadines sail sounds great and the April timing works for you.
Call or email Joe. 408-735-SAIL (7245)
Send $500 per person to reserve your berths.
Joe Martinka
1760 Laurentian Way
Sunnyvale CA 94087
Once your trip is confirmed by email from Joe, make your air reservations.
Bookmark this page
Pre-cruise party/planning as well as crew discussions early next year..

Costs
Estimate: $1800 per person
Ouch. This is higher than previous LIG sails. It is due to that fact that this is prime sailing season in the islands, and during the Spring Break weeks. In other words, 'high season'. This year, unavoidable.
This cost is estimated based on
| | |
| --- | --- |
| | the expected number of people who sign up (e.g. 6, 8, 12 or 16) |
| | the cost and quality of the boat(s) that we have reserved based on availability, |
| | split provisioning (the food on board at $50/person/day), |
| | beverages, bar |
| | and a small buffer. |
Some items are estimates, and are based on previous cruises.
Any trip payment not spent will be refunded after we get back from the trip.
The deposit of $500 per person is non refundable if you decide not to go, and another person cannot be found to take your place. Full payment will be due in late January.
Assumptions for boat and provisioning estimate:
Spring Break Sail for 7 days and 8 nights.
6 pm early boarding Friday,
4 pm all boarding Saturday. (Early) departure Sunday. (proposed)
An extra pre-sail night is included - Friday on board the boats.
(included in above estimate, saving hotel costs and affording an early Sat start)
Not Included
This estimate does not include airfare, souvenirs, any extra nights lodging or other touring on the islands.
YOU MAY NEED A ESTA Travel authorization or a British Visa. Details to follow. We would be visiting 4 different countries, with entry customs at each.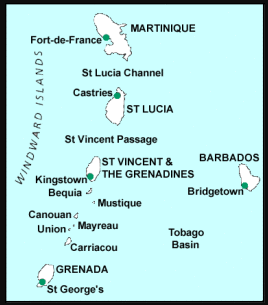 Page updates
| | |
| --- | --- |
| | 8/18 : first edit |
| | 8/24 : added second pair of crew members. Only 2 more to go for minimum quorum. |
| | 10/18: Finally got a the minimum crew together. Some of the boat choices were already reserved. |