2018 Holiday Greetings
from the California Martinka's

Summary:

Joe-- first full year of retirement. But volunteering, biking, scuba, sailing and touring are big diversions

Dorian-- teaching 5th grade, and progressing her fiddling passion from old-time to jazz

Arielle-- finishing her last year at UC Santa Barbara studying Aquatic Biology.

Peter-- in his junior year at UC Berkeley studying Architecture
We are saving paper by putting our message online this year. It seems paperless is the operative word now-a-days for everything.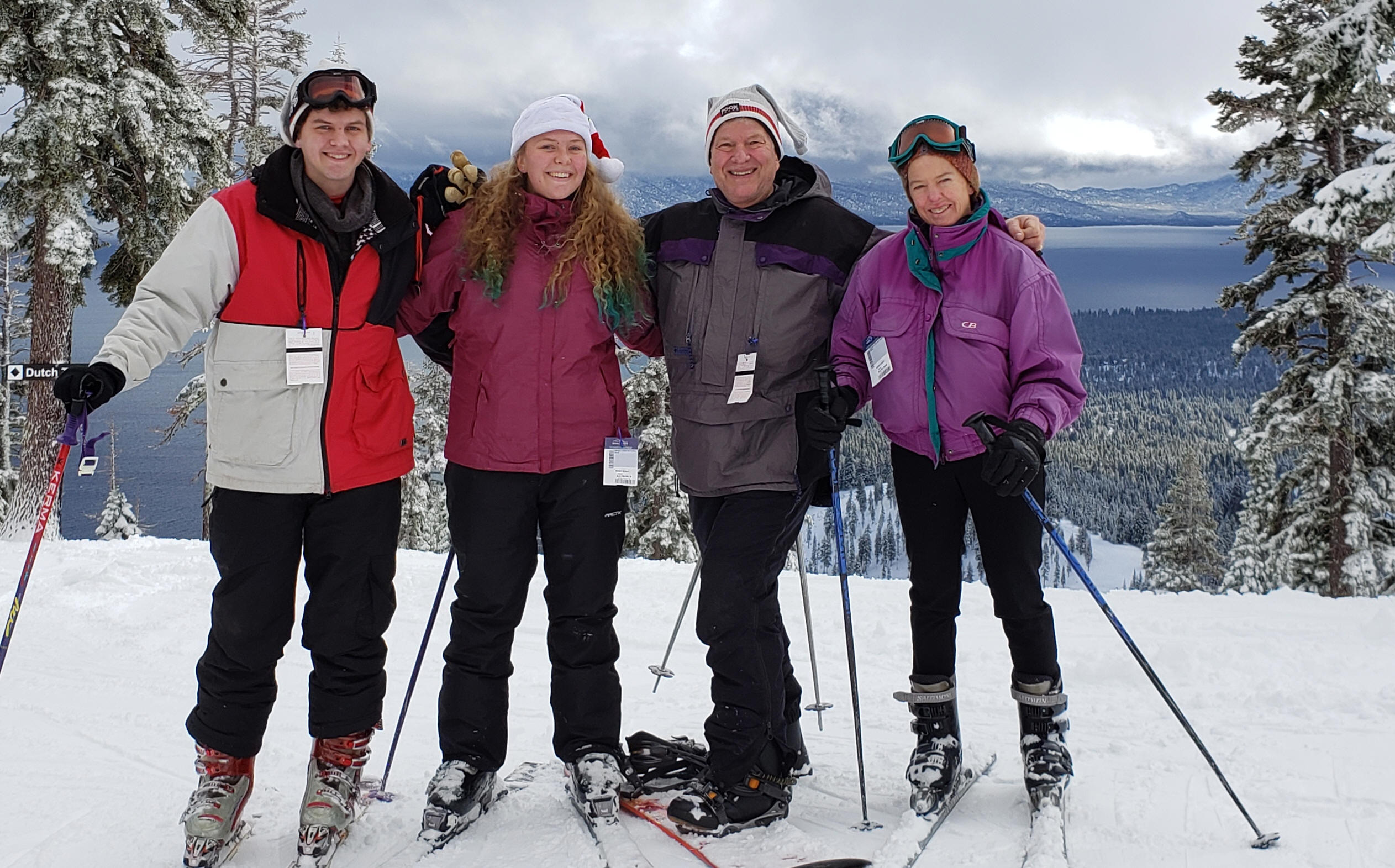 The family at Homewood on Christmas day 2018. Lake Tahoe in the background!

Arielle's Message
I am currently in my fourth and final year at UCSB, still studying Aquatic Biology and loving my classes (except organic chemistry, but phew I'm done with that now!). In addition to classes, I spend time working on local Channel Islands biodiversity research, and assist in a lab studying fish and lobster metabolism. I still work at the REEF, a touch tank aquarium facility located at UCSB's campus point. This Summer, I got my AAUS dive certification, which allows me to SCUBA dive for lab research.
When I'm not in school or at work, I enjoy spending time with my friends exploring Santa Barbara, tide-pooling, and relaxing in hammocks strung on trees along the beach cliffs. I'm doing my best to enjoy my last few months in Isla Vista, but am struggling with the idea that I will have to move away from a such an idyllic, unique area so soon.
After graduation (June 15th, 2019!), I hope to work as a research aide in a new lab, in a new place. Why waste an opportunity to try living somewhere different?
also: the blue hair is temporary! I'm chopping it off soon!

Peter's Message
Wurster hall, the infamous architecture studio building at Cal, has become a secondary apartment for me up in Berkeley. On major studio projects in 2018, I've received class distinctions and award scholarships for building designs. I'm currently leading a group in a SF design competition, and I'm hoping to continue discovering my limits in my remaining undergrad.
Outside of school, I've been working with two professors on house remodels and sculptures, teaching groups of high-schoolers from Tokyo, discovering a guilty pleasure in D&D, and continuing to travel (Barcelona, Rome, Florence) and backpack (Desolation, Point Reyes, El Dorado) with old and new friends.

Dorian's Message
I'm into my 9th year teaching 5th grade at Huff Elementary in Mountain View with a pirate theme. I have a super group of kids this year, including several interesting personalities!

So far I have biked the 4 miles to work with the exception of two days, rain or shite. I've taken to bicycle commuting to just about everywhere I can go. Some people ask if I'm not scared of the traffic. Personally, I think we should be more worried about global warming. This is also why I follow a vegetarian diet.

Another highlight of the summer was attending Jazz Camp West. This camp, set in the nearby redwoods, boasts amazing talent and super instructors. One of my goals this year was to play my violin in a regular group, and I'm now part of a Jazz Combo class. We'll perform in January and then I'll start a new session. I'm finding this sensational fun. I also continue to join a weekly old time group, and do nightly Cape Breton fiddle practice.

Joe also came up to Port Townsend to enjoy biking around WA while I went to Fiddle Tunes camp of there and took classes from Cape Breton Fiddling to Swing to Irish.

"Isn't it our job as humans to be collecting great moments?" (wall art in Iceland) Life just keeps getting better, doesn't it?

Joe's Message
I'm into the fourth year of wood turning on the lathe and the second in retirement from HP. It was this year that my family finally describes my wood turnings as getting better. Together with members of my local woodturning club (Silicon Valley Woodturners), I volunteer extensively at a local high school with an well-equipped woodshop. This fall, I led a team to teach 132 teenagers to turn their first pen on mini-lathes we had donated. I find satisfaction working with the young people on the unique skills needed at a lathe.

This year was marked by several trips. The Life Is Grand (LIG) Sailing group sailed its 16th trip in April 2018 to St. Lucia and the Grenadine/St Vincent islands in the Caribbean. It was an "sailor's sail" with the open ocean crossings on a brandy new 41 foot sloop. Next July, we take 10 people including my graduating daughter to the Seychelles in July on a big catamaran which promises some great reefs, snorkeling and diving. One goal: to see whale sharks. We plan to do some "intrepid" Tanzania bicycling afterwards, the route including the Serengeti national park.

With Dorian, we went cruising to the midnight sun using Viking Sea Cruises to the fjords of Norway, including the most northern tip of Europe. We started from London, and included Scotland, Faroe Islands. We stopped in Iceland for 5 days on the way back. Viking cruises, river or sea, is highly recommended.

With a local bike club, I bicycled over 2000 miles, climbing 180 thousand feet in 2018. Prompted by my daughter, I was Scuba certified with PADI's Advanced Open Ocean this fall, and started regular swimming at a nearby swim facility in Sunnyvale. Getting to that age where congress wants me to report in to Medicare, I am trying to stay out of trouble by avoiding some dumb things I've tripped into previous years. 2018 was an unusual year. I avoided surgery ;-).

We hope to get to see more of you as the years go by before it is too late (damn...the fact that life is finite is now really beginning to sink in). Maybe plan to relax with us at our Lake Tahoe cabin on the west shore.

Past Holiday Letter Archives
2017 -- 2016 -- 2015 -- 2010 -- 2009 -- 2008 -- 2007 -- 2006 -- 2005 -- 2004 -- 2000 --
(Get a "gratitude" gift card if you have kept any past letter between 2011 and 2014 and send it. We would appreciate a copy of it. )